WELCOME TO XVII HALIKKO ORIENTEERING RELAY 2005 - PRELIMINARY JUKOLA 2006 15th October in SALO!
Halikko Orienteering Relay 2005 is a preliminary relay to the 58th Jukola relay and the 29th Venla relay – Salo-Jukola which takes place in Salo 17th-18th of June 2006. Organisers of the Jukola relay 2006 are Angelniemen Ankkuri, Salon Viesti and Salon Vilpas.
Terrain is very typical for Salo-Jukola 2006. The old Turku-Helsinki divides these two competition terrains. The terrain is dominated by quite high hill areas, which slopes' are small figured, swamps and also varied forest terrain. Both maps are made by Jussi Silvennoinen and routes are planned by Ilkka Saarimäki.
Route gadget:
http://www.resultfellows.com/reittiharveli/gadget/cgi-bin/reitti.cgi
Angelniemen Ankkuri welcomes all orienteerers to Salo!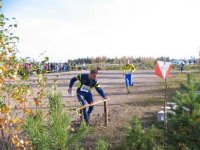 Halikko Relay 2004.
---
In co-operation: