Esittelyssä uusi ankkuri: Emily Kemp!
Kuten tarkkaavaisimmat netin seuraajat ja Salkkarin lukijat lienevät jo huomanneen, saa Ankkuri tulevalle kaudelle huippuluokan vahvistuksen. Hän on Kanadan maajoukkuesuunnistaja Emily Kemp, joka muutti syksyllä Turkuun opiskelemaan maisteriopintojaan Åbo Akademissa. Emily on kuitenkin täällä ennen kaikkea kehittyäkseen suunnistajana kohti omia tavoitteittaan ja unelmiaan. Emily on hieno lisä Ankkuri-perheeseen paitsi urhelurintamalla, myös siitä syystä, että hän ei koskaan lopeta hymyilyä eikä suhtautumista elämään ehtymättömällä positiivisuudella! Alla lisää Emilystä hänen omin sanoin. Haastattelun suomennos lisätään sivulle lähipäivinä.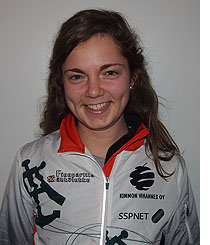 Name: Emily Kemp

Born: 1992

Previous clubs: Ottawa Orienteering Club (CAN), Nature Orientation Saint-Etienne (FRA), OK Linné (SWE)

Best accomplishments in orienteering: JWOC long distance bronze in Slovakia 2012, WOC middle distance 11th in Italy 2014

Why and how did you become an orienteer? At the tender age of 8 my Dad discovered orienteering by accident and took me, my older brother, and my younger sister all out to get lost for a few hours. Against our wishes he kept taking us to meets until eventually we learned how to orienteer on our own and started really loving it; the rest is history!

You are now living in Turku. How did you end up here? That's a funny story! It all started when Thierry Gueorgiou came to North America on vacation and invited me to come and train with the famous training group in Saint-Etienne. At 18 years old I moved to the other side of the world to start studying a Bachelor's degree and train as an elite orienteer. It's safe to say that I never, ever regretted the decision! After finishing my studies in France I knew that I wanted to progress even further with my orienteering which meant moving to a place where they lived and breathed orienteering. Turku was a perfect option with amazing terrains close by and some marvelous people to train with!

And how long are you planning to stay? Along with orienteering in Turku I am also studying a Master's degree in Analytical Chemistry. The program is two years but I really don't know if I will complete it in the allotted time or take a little extra in order to have some more fun here!

Plans and goals for next season and beyond: My main goal is definitely WOC for the next few years to really become the best orienteer possible at the international level. It's the whole journey, though, that I'm really looking forward to: improving as an athlete everyday and just continuing to enjoy this sport so much!

Why did you choose Ankkuri? When I first arrived in Turku they were my guardian angels and really welcomed me to Finland with open arms. I felt like I was already part of the family before I even officially joined the club! They also offer great training opportunities in the Turku region as well as in other countries.

Favourite terrain: I definitely prefer when the terrain is technical and keeps you on your toes. Certainly I have quite enjoyed the terrain in the Turku region since I've been here.

Idols: Thierry is definitely someone I look up to for guidance since he really has the whole elite orienteer thing figured out.

Other hobbies: Skyping with my family back in Canada, studying chemistry, reading novels, enjoying the outdoors

Favourite relay leg: At international events I've almost only ever run the first leg but I think I would really like running any leg.

Best orienteering memory: My best memory of actual orienteering was from running the second leg at the WOC relay in 2011 in France. That crazy terrain had reduced me to tears twice leading up to the championships and it absolutely terrified me. However, during that one race I managed to orienteer so perfectly that I literally had the best race of my life. Another close second memory is winning the bronze medal at JWOC when my whole family was there to celebrate with me. There's nothing that can beat the type of happiness that comes from making your family proud.

Favourite dish: I just love food in general!!

and drink: Milk from Canadian cows (but Finnish cows do a pretty good job as well)

Marital status: I'm not married but my heart is in France!

Free style or classic style? Free stylin' it all the way (whatever that means…)

Favourite chore in Halikko Relay? I haven't been fortunate enough yet to help with a Halikko Relay but I think I would enjoy pre-running controls in the morning or doing some sort of job in the arena so I get to see all the excitement happening!

Tervetuloa, welcome, bienvenue, välkommen Emily!

Emilyn ns. virallisempi suunnistusprofiili löytyy täältä.

Emilyn blogi puolestaan täältä.

Salkkarin jutussakin mainittu Youtube-klippi nuorten MM-pronssin jälkeen taasen tästä!
Vesa Mäkinen - 23.11.2014, 22:57